Here's what well-known Canadian writer Andreas Schroeder wrote about this novel:
"Just wanted to let you know how thoroughly I'm enjoying The Modern Age. I've rarely encountered such a compelling, engrossing, believable (and yet enticingly unreliable) narrative voice. I think it's right up there with Laurence's Stone Angel. I often found myself stopping, re-reading a passage, thinking about it, then carrying on."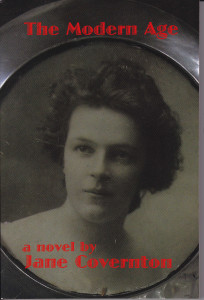 It was 1902… women didn't go to medical school. But Mary Margaret was determined. She raised orchids to pay for it; she dressed as a man; she travelled; she practised. Now it's 1964… Mary Margaret wants to know what happened… to her life, to her beloved niece, to the shattered world.
From the beginning of The Modern Age:
Last night I woke again with all the warm sleep drained away without my noticing, and my body lying chilled, in consciousness again. I was dreaming. I was looking at photographs of us all – Zoe and I in long dresses, then shorter during the War, the padded shoulders of my work life in the forties, cocktail dresses, and now me, old, in the pants I only ever wear.
In some ways my life has been one damn thing after another. I need to tell a thing or two and I'm too old to care anymore about the proprieties. So I decided then, last night, lying sleepless for so long, to try to write this, to tell a story about Zoe and me…